Welcome to Ride Freaks!
Welcome To My Bike Page
It's been a wish of mine to be able to start up my own webpage dedicated to my passion...riding bikes. Well here it is! Over the next few months I will be updating the site and adding additional photos, links and information. I hope you like it. If you have any suggestions, please let me know.

Jamie (The Ride Freak)
My Riding Experience
I have been Mountain bike riding for the last three years and I have learned a lot about riding.
My best friend taught me how to ride and over these past three years it has been an excellent learning experience for me.

Most of my time is spent riding at The Charlottenburgh Forest Mountain Bike Area (aka CFMBA or 'The Burgh').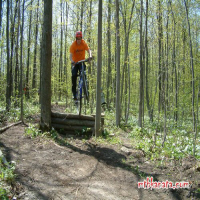 Derailleurs MTB CLUB
Some friends of mine have created the Derailleurs MTB club.
The Club Was Created by Steve and Sylvain It started out last year as a small club but it's growing bigger now.We're looking for more members so if your interested you can contact Steve at

d-ralrs@cogeco.ca
Trail and Weather Conditions at the Burgh
Trails closed for winter
Riding at 'The Burgh'
Riding at the Burgh is an excellent endurance also when you ride there you get better at riding and watching where your going.